On sale! This package of 2 (two) 1.5 hour trainings (3 hours total), includes a BONUS – HoopShack-to-gO access into aRoundJoy Basics™ Hoop Training Vault for study help at home!
To complete your purchase, create an account or login to your existing account. Guest checkout is not an option for hoops, training & gift certificates, due to customization and scheduling of these products. Once you are logged in, you will be redirected to PayPal, where you can pay with a credit card or a PayPal account.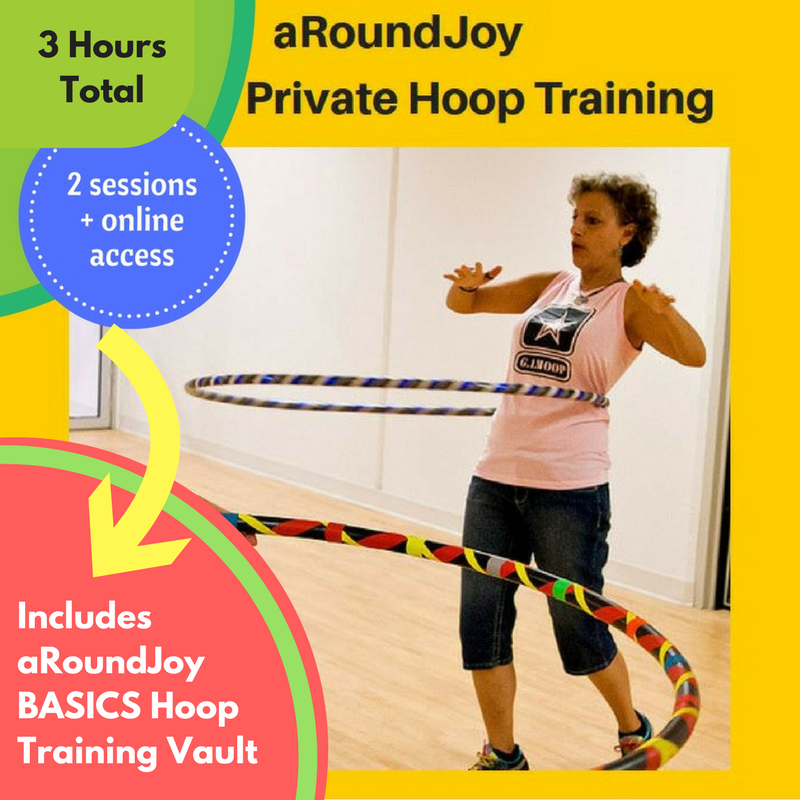 No experience required! This 2 session package gives an individual 3 total hours of aRoundJoy private hoop training at The HoopShack.
Price is per person. Each individual may purchase separately or one individual can purchase 2 packages for both participants. After you add the item to your cart, you can change the quantity from 1 to 2 for two people.
2 Session Package expires after 60 days.
*Normally split into 2 sessions on different days. Depending on the clients needs & abilities, the training can be done all in the same day, with a break for lunch or snacks. For an additional fee, overnight accommodations are also available at The HoopShack if you are traveling into town and wish to complete your training, but also would like to stay conveniently, plus do some shopping, dining & relaxing! A great girlfriend get-away idea! Just ask for more details and discuss these options before your training.
The aRoundJoy® curriculum content and concepts vary based on client needs, goals and abilities. Instruction/practice is customized so you are always successful and you will learn how to use a hoop for maximum benefit and results.