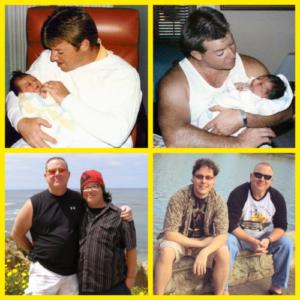 If you've known me or even followed me for awhile, you'll remember that my daddy passed away when I was just 21 years old. You'd think today would be a little sad for me, but thankfully, that's not the case. I remember so much love from father…and thanks to my husband, I get to witness daily a shining example of a loving provider and father right before my eyes. So, Father's Day is truly a joy for me…and here's a few reasons why…
My Memories
As far back as I can remember, I was loved by my daddy. He was proud of me and he told me so. He smiled when I entered a room…his eyes lit up…he greeted me with hugs and kisses. If I was asleep, he ALWAYS came into my room & gave me a goodnight kiss. I would wake up just a little, enough for me to be aware of his smell, even to this day. His leather jacket & cologne…even musty smells from his smoking habit…I relish every single, precious memory.
I think perhaps the memory I am most grateful for is being home from college the day he passed away. Actually, I consider it a gift. That day, I saw him before going out shopping with my momma. He kissed me goodbye and told me he loved me. Later that night, I would find him asleep in his chair. Yes, I did. No one else did. Just me.
Yes, that's a special memory. I was not even suppose to be home that day…but I was. There was a reason for me to be there, God put me there. God gave me that special gift. He showed me that HE'S got my back and will always put me where I need to be. From that day, I have never questioned why something is happening or where I am led…I just go with what or who I am drawn to. There's a purpose for every experience. I'll be talking more about that in future posts, but let me just make it clear…I got all THAT on the day my daddy died.
That is a big lesson to learn early in life. I know it helped shape me. I would have missed so much had I not decided to go home on that one day. How can I not be grateful for that? I think about it almost daily and celebrate it every single chance I get…especially on holidays like this one!
My Man
When I was 22 years old, I went on a "first date" with the man I would marry two years later. We have been married for 33 years…he's a loving, hard working husband and father. Without him, there would be far, far less joy in my life. Just as God put me where I needed to be the day my daddy died, He also put this man into my path and allowed us to meet, fall in love and get married. Celebrating him daily is not enough, so going on a little extra on holidays like today seems only fair!
My Mission
I am all about joy. I know God put me here to share joy, using my talents.
My father raised me around love and joy. He made sure I was involved in dance, and other activities that made me happy. That molded me into who I am today, doing what I do, loving movement and encouraging others to get up and move.
My husband helps me so much…believing in me…providing financial support…technology support…plus, all the physical labor that keeps aRoundJoy possible, from hauling hoops to events, to all the work he's done to create my studio locations over the last 8 years. I am so blessed and need to tell you so much more. Again, in future posts I will be sharing lots more of our story.
So you see, without my daddy or my husband, there would not be aRoundJoy. It's the truth. aRoundJoy has deep roots far beyond what you see…the vehicle I simply ended up with was a hoop, but my real joy and passion comes from my family. Thanks to them, I can keep providing an experience towards physical and emotional wellness through the joy of hooping…and I will continue to share more life experiences here with you, all with my hoop in hand!
Today, on Father's Day, I simply thank God and celebrate these special men in my life!