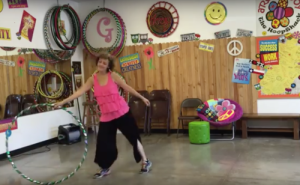 Several years ago, when I first started teaching hoopdance, one of my first students, who is now a very dear friend, casually mentioned something in class about the relationship she was forming with her hoop. I remember it like it was yesterday…she said, "The hoop is more than just a fitness tool…it's my dance partner!"
Since then, I often reflect on that statement with my clients again and again and it STILL rings true! I even silently think about it and smile during my own personal hoop practice. It really IS the best way to describe the bond you develop with your hoop. Well, let me rephrase that…it really SHOULD be the way to describe your bond with the hoop.
Once you realize the powerful connection you create with this simple plastic ring, you DO think of it as a real partner in your life. You understand it's helping you…there's no mistake…you see and feel the powerful results of your relationship. Those that allow themselves to get to this point in their hooping journey really DO reap the benefits of reduced stress, weight loss, more energy, a smaller waist, tone arms and they are in general, much happier. I hear this from clients repeatedly, and when I do, it makes my heart swell.
Unfortunately, not all allow themselves to just let go and take their hooping to that level of intimacy. Yes, it's very personal and can be emotional, even embarrassing, at first. Comments from others about hooping being silly, thoughts of self-doubt…if you let things like that get in the way, then the hoop will not be your friend…it will become just another piece of exercise equipment that sits collecting dust.
It's only when you grab your hoop daily that you begin to feel a true connection. It's there for you. ANYTIME.
Imagine wanting to dance, but your significant other isn't one to just jump up and join you. Well, your hoop IS there, always ready to hit the dance floor! This can be at home or even at an outdoor concert. You have a dance partner for life in the hoop.
One of the things I love most is moving to music, really feeling the emotions of the song, which sometimes, are directed to my loving, supportive husband. In this way, with my hoop, I can dance and honor him without having to ask him to join in! It's very special. I can devote a dance to him anytime, even if he's not aware of it. That's a special moment for me and my hoop. No one has to know but me…
I've never really told anyone that publicly, but I suspect lots of us that hoop think such things as we dance…because, as I mentioned, it becomes very personal when you allow it to.
In fact, I know this can be very true for others. Here's a shining example from a hooping friend across the miles, Holly. As a tribute to her husband on their 39th wedding anniversary, she hooped at twilight to "their" song…I love this…so special…take a moment to enjoy, it is so very sweet!
Your hoop dance is yours and yours alone, and you style of hoop practice is all your own, too. You can enjoy it no matter where you are…out at a group event in public or home all by yourself. One thing is for sure, though… you really never ARE alone when you dance with a hoop. It's a beautiful thing.
What are your thoughts? I'd love to hear your experiences, if you hoop now…or perhaps your hopes if you are just getting started.