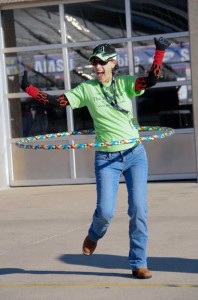 You know what inspires me? Any form of dance and creative expression…I bring this into my hoop practice…I think about the bliss, not the steps or the tricks…I let the fun that I feel come out in my hooping…and it is my sincere hope that you will do that, too.
Just sharing a video below that I hope will bring a smile to your face…and JOY to your heart, which I hope will give you a little bit to think about. Move in a way that makes you feel light and happy. It's important to lighten up…both in your thoughts and physically, lighten your grip on that hoop! Just let it GO a little. Feel free.
I know many of my students express desires to get better with their hooping. I'm here to tell each and every one of you, YOU already ARE better! I have seen SO much growth in the individuals who came to my private sessions over the last year! All you need to do NOW is just ENJOY…and put your heart and soul into it…hoop like you mean it, like nobody's watching…let's dance…from the inside…because it makes no difference what's on the outside. What you feel in your heart, what your intention is, when you REALLY let go…THAT'S what will shine through in your hooping!
Get ready to expand more on all this in upcoming offerings in 2016, both online and at The HoopShack. Specific small-group workshops, an exclusive online study mentorship and even a hoop retreat. With our new guest house almost ready, I truly am opening up my "home" to make clients feel very welcome. We'll celebrate being with our hoops, playing like we were just kids and enjoying our time together. It's truly a time to DANCE…