There's a little something I knew but had forgotten! Well known singer, and one of MY favorite musical artists, Amy Grant, has been hooping for years! I recall seeing a YouTube video of her skills on the farm with friends several years ago. Recently, I learned she was now hoopin' aRound the Christmas tree on her holiday concert tour!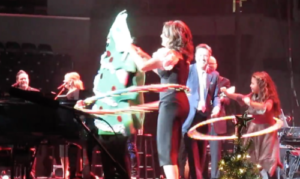 Thanks to videos on social media, we can all enjoy watching the festivities! A client retweeted a video on Twitter & alerted me! I also gave it a tweet-tweet & also looked up the hoopla on Facebook…here's just some of the fun!
I mean, Y'ALL…how fun IS she?? Hoopin' & rockin' aRound that Christmas tree!
Um. @amygrant can sing & hula hoop at the SAME time. What can she NOT do?! See her & @VGcom at @TheRyman this month: https://t.co/B1Y7LD9Em6 pic.twitter.com/UX3kT0ZUqq

— Nashville Tennessee (@visitmusiccity) December 2, 2016
According to what I can find, she was hooping as far back as 2008 in a quick video outside what appears to be a sound recording studio. Now, let's look back at Amy in another video from 2012, on the farm with friends…
I LOVE IT! The only thing is that she's using a "weighted hoop"…and you know how I discourage use of those. I explain all that HERE.
Now, don't get me wrong. That's not to say that I am not THRILLED over the moon that Amy loves getting in a hoop and spinning with the music! Oh, it makes my heart sing! I just want you all to understand why a hoop like that isn't the best choice…safety is the biggest concern….but more than that, there's SO many more full body benefits you can experience with a custom size & weight (lighter) handmade hoop…using it off-body is SUCH an incredible arm workout. Hooping is SO much more than just spinning a heavy circle on your waist.
Of course, I did notice in that fun 2012 video there ARE other, lighter hoops spinning alongside Amy's. I wonder if she is also using those sometimes? I hope so. Maybe Amy is like so many who think "more weight" is more beneficial for a workout. I hear that all the time. I know for sure she finds it easier to keep the hoop going! It's very common. That's what the weight IS good for…but that's it. Lighter hoops work you out HARDER…again, I explain more details about the SIZE of lighter hoops HERE…bigger is easier, but it doesn't have to be much heavier than 1.5 – 2 pounds. Any more than that and you can bruise, hurt internal organs and you can't use the heavy hoops for anything else but waist hooping.
A hoop helps more than just your waist,  keeping your "girlish figure" in tact! It's got so many therapeutic benefits for those of us over 50, too! Opening up the upper body, flexibility in the shoulders AND hips as we get older, warding off arthritis even in our fingers, helping to keep them active as we use a hoop in our hands…even challenging the brain to LEARN a few tricks with our hands, using our mind, as if working a crossword puzzle, to make vital connections…thus, exercising our mental muscles, too! THAT is SO important as we age! None of that can be accomplished with a heavy, thick hoop.
STILL, with ALL that being said, I just love seeing the hoop circling Amy! I also now have something I want to do in my life while I'm still here to do it…I want to make Amy a pretty new hoop, give it to her and then teach her a few moves.
Yep, it could happen someday. You never know.
Hooping with Amy Grant. On my "Grown-Up Christmas List?"
Nope. Just on my bucket list!