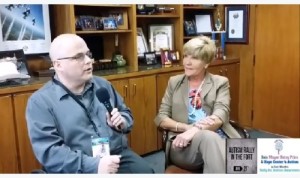 As a parent of an adult son on the spectrum, nothing brings me MORE joy than hooping and helping raise autism awareness!
So, I'm supporting local efforts this coming Monday, April 27th, at the Autism Rally in the Fort. The event will be at Panther Island Pavilion from 4-7pm. This gathering will celebrate and benefit the wonderful work being done at Hope Center 4 Autism for local children affected by autism spectrum disorders.
Special thanks to Hondo, host of Impact Texas, a public affairs show for Cumulus Media Dallas, for this informative Facebook video interview with Mayor Betsy Price! Watch it to learn more. Links and event details are also on my CALENDAR.
Just looks for my hoop and my Jeep! Oh, and there will be more Jeeps there from Chisholm Trail Jeep Club, including The Au-Some Crawler!
My hoop, some Jeeps and lots of people there supporting autism awareness…combined with music and fun! What a great time it will be. I hope to see you there!