Can you believe it? Ferris Bueller hooping? It's true!
Yeppers! I dreamed last night that I taught Ferris Bueller to hoop! (ok, ok…don't be mad at me for the shameless hook! IT DID HAPPEN and it was SO real to me…nope, not even kidding!)
Of course, I have to look for the hidden meaning in this odd, random dream, right? Here's what I think…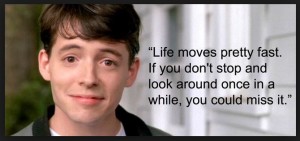 As Ferris says, "Life moves pretty fast. If you don't stop and look around once in a while, you could miss it."
SO I REALLY MUST FEEL DEEPLY THAT EVERYONE SHOULD TAKE TIME TO LEARN A NEW SKILL LIKE HOOPNG!
I mean, Ferris did! (Well, in my dream, anyway!) He HAS that spirit I love to work with in hoop class! Just like in the movie, we see him  wanting to have fun and not caring what anyone thought. He was willing to take a chance, see where it led him on that particular day. Oh, sure, he got into a real mess, but he learned a lot in the process…most importantly, he gained a lot of insight about himself!
So, look at HOOPING IN THE SAME WAY!  You might get into some difficulty while practicing it, but you keep on going and eventually, it all works out if you stay persistent! The journey and transformation it takes you on is like a wonderful story worthy of a movie!  Yet, at the very basic level, it is just simple, not complicated fun. The attitude it takes to become a hooper goes hand-in-hand with the essence of Ferris!
Take a look at the summary of the movie Ferris Bueller's Day Off :
"A high school wise guy is determined to have a day off from school, despite of what the principal thinks of that."
Now, I ask you, wouldn't you like a DAY OFF FROM LIFE?
Well then, my friends, you need to get yourself to one of my classes and let me introduce you to the hoop and the wonderful community of aRoundJoy at The HoopShack
When I ask you how you found me, just say Ferris sent you! If you already have been to class, but just need a refresher or want to get back "into" your hoop again, REMEMBER my DREAM and TAKE A DAY OFF to just come on!
Find out more on my FAQ's page. Don't be scared.
Do you have an inner Ferris? What do you to tap into it? I challenge you to just GO THERE! DO SOMETHING new!
Hoop like Ferris.
Be like Ferris.